Barer og nattklubber i New York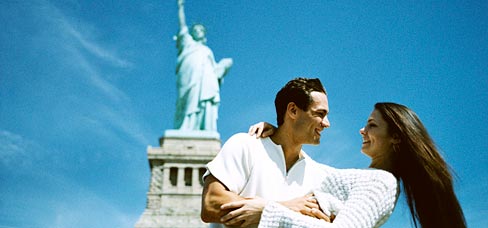 New York er byen som aldri sover. Her kan du danse langt ut i de små timer, og utvalget av klubber og barer er enormt. Her er det noe for enhver smak.
Beauty Bar
Tidligere skjønnhetssalong i Gramercy som nå er blitt til en trendy bar. Genistreken er de ikke har forlatt den tidligere virksomheten helt. Her kan man nemlig få fikset neglene samtidig som man nipper til en Cosmopolitan. 231 E 14 St., like ved Second Ave.

King Cole Bar
Her ble bloody mary oppfunnet ved tidenes morgen. Den gang het drinken "red snapper". Elegant med skinnmøbler og mahognivegger. St Regis Hotel, 2 E 55th St. mellom Fifth og Madison Ave.

The World Bar
med kanskje verdens dyreste drinker. Her får du cocktailer til 65 dollar. Elegant og avansert i første etasje i verdens høyeste boligblokk. Trump World Tower, 845 United Nations Plaza, mellom 47th og 48th St.

Cielo
Avslappende klubb i en ellers stiv del av Manhattan. Glohett dansegulv og toppnavn bak platespillerne. Her spilles det house og en del techno. 18 Little West 12th St., www.cieloclub.com.

Club New York
Salsa- og latinoklubb med kjendispotensial. 252 W 43d St. mellom Broadway og Seventh Ave.

Marquee Chic
Klubb i Chelsea som er umåtelig populær. Her kan det være vanskelig å komme inn. Omgivelsene er betydelig mer spektakulære enn musikken.289 Tenth Avenue, mellom 26th og 27th St., www.marqueeny.com.

Lenox Lounge
288 Lenox Ave./ Malcolm X Blvd., www.lenoxlounge.com. Klassisk Harlem-institusjon hvor bl.a. Billie Holiday har opptrådt. I dag både folk fra nabolaget og megastjerner på scenen.

Blue Note
131 W 3rd St., www.bluenote.net. Klassisk jazzklubb som kaller seg selv "the jazz capital of the world".

Bowery Ballroom
6 Delancey St., www.boweryballroom.com. Utmerket sted å oppdage unge, hete indieband. Trivelig lounge hvor man kan henge dersom man ikke liker musikken.