Restauranter i New York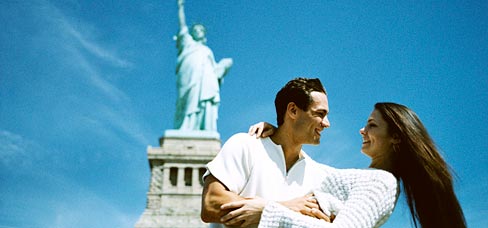 Siden New York er en by som tilhører hele verden, er også mat fra alle verdenshjørner representert her. Her finner du alt fra det hete meksikanske kjøkkenet til det litt kjøligere svenske. Du kan både spise billig og ekstremt dyrt. La fantasien strømme, og la middagen bli en opplevelse.

Golden Bridge
50 Bowery, www.goldenbridgerestaurant.com. Hvis du vil spise bra og billig, er Chinatown et godt tips. Her kryr det av enkle, men gode restauranter, som f.eks. Golden Bridge. Prisnivå: billig.

Pearl Oyster Bar
18 Cornelia St, www.pearloysterbar.com. Du kan ikke bestille bord, men det er definitivt verdt å vente på en "lobsterroll" med nykokt hummer. Ligger i West Village. Prisnivå: middels.

Russian Samovar
256 W 52nd St. Dette er så nært man kommer Russland i det sentrale New York. Koselig, kitsch og populært i nærheten av teaterdistriktet. Prisnivå: middels.

Aquavit
65 E 55th St, www.aquavit.org. Den svenske mesterkokken Marcus Samuelssons prisbelønte kro på Manhattan. Prisnivå: dyrt.
Island Burgers and Shakes
Mengder av hamburgere i nye og uvanlige kostymer. Her får du f.eks. hamburger med avokado, bacon og rug. Her får du også salater og nydelig milkshake. Ligger i Hell's Kitchen. 766 Ninth Ave mellom 51st og 52nd St.

Katz Delikatessen
Klassisk kafé på Lower East Side. Velkjent for sine pastrami-smørbrød. Det er her den berømte orgasme-scenen fra filmen "Da han møtte henne" ble spilt inn. 205 East Houston St., Eighth Ave og Hudson River. www.katzdeli.com.net/eating/toeat.html

Negril Village
Reker i kokos og brennhet ananassalsa. Jamaikansk restaurant av høy klasse med levende lys. 70 W 3rd St. mellom La Guardia Pl og Thompson St.

Tamarind
Elegant indisk restaurant med "dumplings" fylt med lotusrøtter, sprø tandoori og luftig nanbrød. 41–43 E 22nd St. mellom Broadway og Park Ave South, www.tamarinde22.com.

Nobu
New Yorks beste japanske restaurant. Kjendissted som er blitt en turistfavoritt. Vanskelig å få bord. 105 Hudson St.

Five Points
Trivelig lokalrestaurant med noen faste favoritter som toppes av oppfinnsomme dagens retter. Amerika møter Middelhavet. Alltid saftige steker. Alltid god mat. 31 Great Jones St. mellom Bowery og Lafayette St. Prisnivå: dyrt.
Gotham Bar and Grill
Kjempested i West Village med en av byens stjernekokker, Alfred Portale, ved spakene. Lam, hummer og ventende limousiner i skjønn forening. 12 E 12th St. mellom Fifth Avenue og University Pl.

Peter Luger
Gammel tysk ølhall fra slutten av 1800-tallet. I senere tid forvandlet til et reisemål for folk på jakt etter den perfekte steken. Den beste i Nord-Amerika, hevder mange. 178 Broadway / Driggs Avenue, Williamsburg, Brooklyn.

Fresh
Fersk er ordet. Boston-makrell, blå krabbe fra Maryland og havets gleder. En av byens ledende fiskerestauranter. Ligger i Tribeca. 105 Reade St.mellom Church og West Broadway.