Se og gjøre i London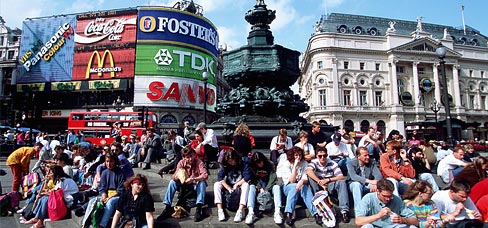 Beatles Magical Mystery Tour
www.beatlesinlondon.com
. Dette er en rundreise for den som elsker Beatles' musikk. Starter ved Dominion Theatre i Tottenham Court Road. To og en halv time lang guidet tur til blant annet studioet i Abbey Road og taket der de spilte sin berømte "Let it be"-konsert.
Tate Modern
Bankside,
www.tate.org.uk/modern
. Tate tilbyr et enormt utvalg av internasjonal moderne kunst. De fleste utstillingene er gratis, men hvis du vil kan du legge igjen en frivillig gave.
Hyde Park

Den største parken i London sentrum. I dag arrangeres det blant annet store konserter her.
Buckingham Palace
stod ferdig i år 1703. Dronning Victoria avskydde Buckingham Palace og kalte det en skam for hele nasjonen. Enkelte deler er åpne for publikum i august-september, når dronningen bor i Windsor. Vaktskiftet klokken 11.30 (de fleste dager) er underholdende.

Houses of Parliament
Parliament Square. En praktfull viktoriansk bygning som utstråler en selvtillit som rekker helt opp til urskiven på klokketårnet Big Ben.
Spasertur ved South Bank of the Thames
Start ved London Eye like overfor Big Ben. Her har du utsikt over hele London. Spaserturen gir deg en følelse av London og går forbi Royal Festival Hall, Museum of Moving Image og Waterloo Bridge til Tower Bridge.
St.Paul's Cathedral
Samler hele Londons historie. I dag er katedralen en nasjonal institusjon. 530 trappetrinn opp finner du Golden Gallery. Ta en runde rundt kuppelen og du får store deler av London på kjøpet. Veien dit går via Whispering Gallery. Hvis du visker inn mot kuppelveggen, kan folk på den andre siden av galleriet høre deg klart og tydelig. Enda mer stjerneglans om kvelden. Katedralen blir magisk i lyset av månen og flomlyskasterne. Undergrunn: St Paul's.